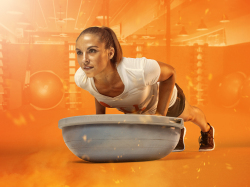 We're focusing on love at Orangetheory Fitness Marlborough. Celebrate Valentine's Day the right way by trying out this "fitting" recipe for self-love and heart health.
Dim the lights and crank up the romance, because this Valentine's Day is going to be the Best. One. Yet!
It doesn't matter whether your Facebook page says "Single," "In a relationship," or "It's complicated," because this year it's all about focusing on the number one person in your life: YOU.
We've been helping you with your fitness goals every time you burn with us at Orangetheory Fitness Marlborough—and what awesome goals they are! But we'd like to ask you to add this very important goal to your list: Love yourself.
Loving yourself and making an investment in your heart's health will affect your mood and ultimately benefit all aspects of your life. The science behind the mood benefits of exercise enable us to provide a place for you to destress, relieve anxiety, and battle even the slightest trace of depression. When you push yourself to the Orange Zone you remind yourself that YOU are the one in control of your own life. You're capable of anything you set your mind to and deserve all the love in the world.
We want you to believe it as much as we do. Follow our Recipe for Self-Love and Heart-Health, and you'll be on the rose-lined path to burning for YOU—for Valentine's Day, and for life!
OTF Marlborough's Recipe to Self-Love and Heart-Health:Step 1:Set new goals and compete with yourself.
Keep a close eye on those splat stats as you push yourself in the Orange Zone and you'll start beating your personal best in no time. Instead of wasting time comparing yourself to others, focus on being a better you every single day.
Step 2:Treat yourself to some new workout threads!
This is the perfect Valentine's Day gift to help motivate you and keep you focused on your physical goals. We're not saying it has to be OTF gear, but we do think you look awesome in orange! ;)
Step 3:Try a new healthy recipe.
Cooking is another way to feel accomplished, especially if you've learned how to prepare a new dish—and healthy, guilt-free eating will help you feel good about yourself. You can also spice things up in the kitchen by trying a different, healthy spin on a dish you've already learned how to prepare.
Step 4:Get serious about your sleep routine.
Sometimes we get so caught up in our busy lives that we forget how important that REM time really is. Sleep deprivation can cause weight gain and lead to chronic health problems like high blood pressure, heart disease, and stroke. Give your fitness journey a head start every day by getting enough sleep.
Step 5:Seek balance.
Trust us, we get that you're busy! But all work and no play is no way to live. Your 60-minute workout at OTF Marlborough is a great way to lock in some well-deserved "me" time and have fun while working on a better you. And we bet you can find even more ways to make sure you're giving yourself time to do the things YOU love, for no one but YOU.
Step 6:Stop being so hard on yourself.
In other words: Chocolate!! (What kind of Valentine's Day blog would this be without chocolate?) Chocolate and other cheat foods happen, so don't beat yourself up about it. No reason to make yourself feel bad for the occasional indulgence. Sometimes cravings even happen for a reason. Did you know that dark chocolate stimulates the production of endorphins and is thought to be good for your brain? It also contains flavonoids that can help lower blood pressure and reduce cholesterol. Yum! Just remember—moderation is key.
Step 7:Give back.
Contributing to something of value to your community can really make you feel good about yourself and help you feel like you're part of something important. We're proud to be partnering up with
Augie's Quest
as part of OTF Nation's pledge to raise one million dollars to help find a cure for
ALS
. With two ways to donate, freebies for members who donate, prizes for top studios, and a 90-minute "Augiethon" workout, we're ready to start burning for a cure. Don't miss this opportunity to #IBURN4ALS and give hope to thousands of people fighting to keep their muscles. Stop by the front desk for more details.
Still fresh into 2017 and with Valentine's Day on the mind, now is the perfect time to get focused on your heart-healthy journey. If you haven't started burning with us at Orangetheory Fitness in Marlborough, MA, our fit family is ready to welcome you with open arms and open heart. Commit to loving yourself by signing up now:
http://bit.ly/2jRlXCQ
.