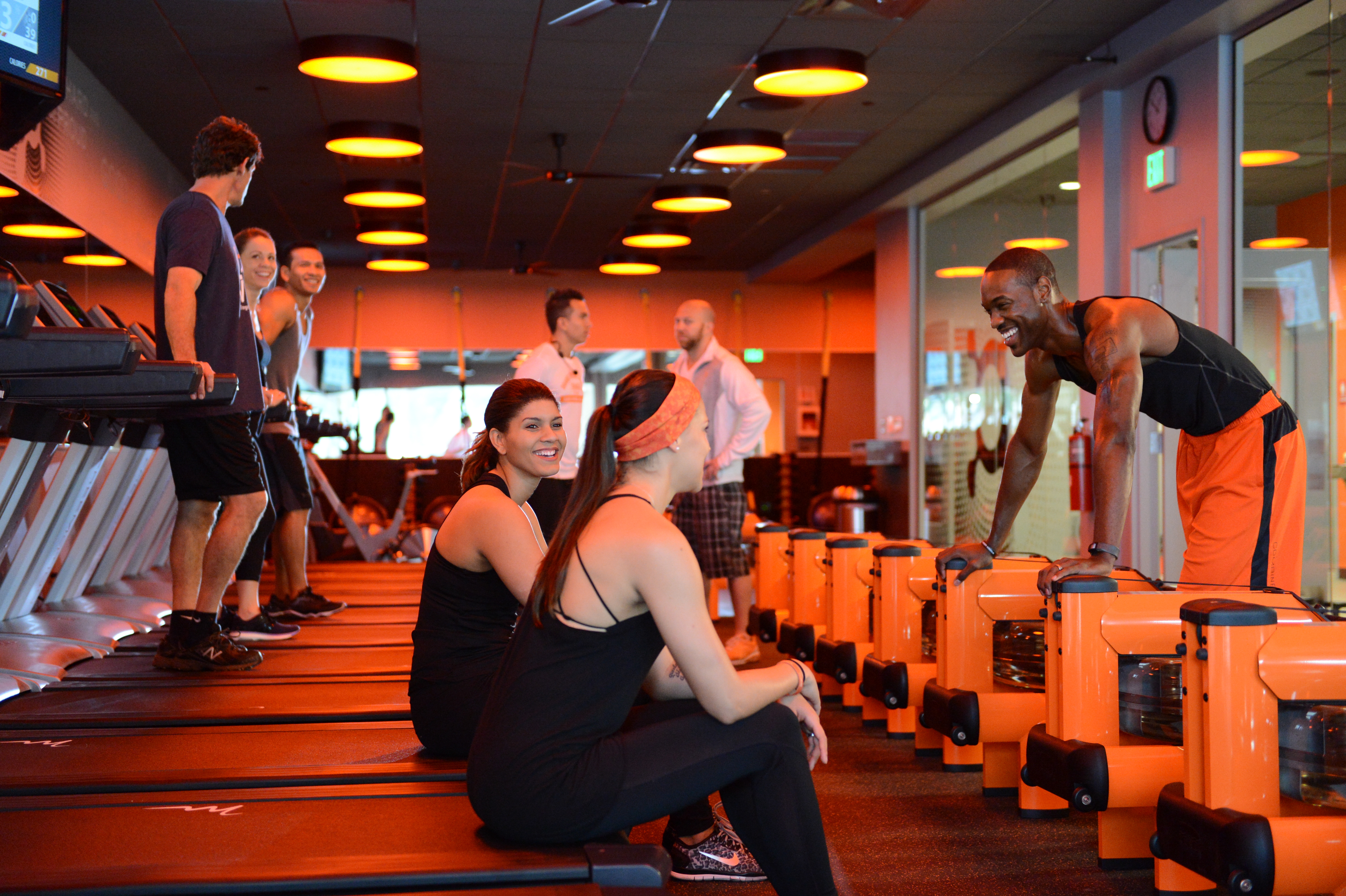 The members and staff at Orangetheory Fitness in Marlborough, MA, turn an intimidating workout into exercise you can look forward to and stick with.
Starting a new fitness regimen at a new gym can be intimidating. Even more challenging? Sticking with it. But at Orangetheory Fitness Marlborough, the family atmosphere makes it easier to reach your goals, ultimately producing better, lasting results. The tight family bond between all of our members and staff is stronger than what you'll find in any other fitness setting. And it's something we gladly extend to new members or first-timers who, like us, have realized they're willing to do what it takes to achieve a positive lifestyle change.
Classmates who Become Best Friends
Something awesome happens when you join Orangetheory Fitness: You meet people who think like you and share similar goals. We're never surprised to see friendships forming—from members who sign up for the same class days and times to those who leave class together to grab a post-workout snack and catch up. Many of our members hated working out alone, and it wasn't until meeting their Orangetheory fit fam that they were able to really stick to exercising, change their lifestyle, and achieve the results they wanted.
Friendships among members don't just happen in our Orangetheory Fitness studio in Marlborough, MA; they're being talked about all across OTF Nation:
"I've made a lot of good friends who push each other to always be the 'best versions' of themselves." –Humberto S., Pembroke Pines, FL
"I owe my overall health physically and mentally to the program and friends I made at OTF. Their great attitude and motivation make the workouts more enjoyable to show up to every day. Even if I start to lose sight of my goals I know they'll be there to help me keep going." –Amber, Ahwatukee, AZ
"The members are awesome and so supportive, I have made new friends just from OTF and I feel like I have a little OTF Family." –Natalie S., La Jolla, CA
"I've made so many new friendships. They push me to achieve and surpass my goals, are my accountability partners, and make working out even more fun." –Amy M., Delray Beach, FL
"It's home to me now and I love all the members, especially the ones who have befriended me in big ways!" –Brenda N., Woodstock, GA
Who's your Orangetheory BFF? Post a picture of you and your best Orangetheory buds to Instagram and tag us @orangetheoryMarlborough. We'd love to hear the story of how you met and how your friendship has helped you reach your fitness goals.
Trainers and Staff Who Know You and Care about You
You can count on your trainers at Orangetheory Fitness Marlborough to be there every step of the way as you progress toward your fitness goals. They know your body, abilities, injuries, and goals—and are able to guide you and push you based on your personal potential. Have you ever walked into our studio, been greeted by your name, and been told by our staff that you've been losing weight, gaining muscle mass, or meeting your other fitness goals, so we better update your member profile?
OTF Nation loves the personal attention they get from trainers at Orangetheory Fitness. Here's what they're saying:
"The trainers and front desk team are the people behind how and why so many of us are changing our lives for the better!" –Brenda N., Woodstock, GA
"The staff are welcoming, warm, and helpful. How many gyms have you joined where they call you by name every time you walk in the door?" –Jennifer T., Lubbock, TX
"The staff and trainers are all so nice and encouraging, which makes time at the Waterford studio fun and enjoyable—a place I really want to be. The trainers all have different styles but all find ways to motivate me to stay on the correct path." –John P., Waterford Park, FL
"The trainers really help you achieve your goals. They are the kind of motivation everyone needs." –Anthony, Cutler Bay, FL
"With the support of the trainers at OTF I am committed to 1) working out every day, 2) following a diet plan, and 3) learning as much as I can about the WHY." –Laura, East Mesa-Red Mountain, Arizona
What do you love about the trainers and staff at Orangetheory? The next time you "check in" to Orangetheory Fitness Marlborough on
Facebook
, give a shout-out to your favorite trainers.
Growing Our Family
Our fit fam at Orangetheory Fitness Carmel is always happy to welcome new members to our family and help you begin changing your life for the better. As Patrick I. from Olney, MD, said, "It can be intimidating to get into something new that can be perceived as intense and challenging. However, the family at OTF is so welcoming, supportive, and fun to work with that I hope that doesn't stop anyone." If you're about to try your first Orangetheory Fitness class with us, "bring a friend—or make one" (as Jennifer T. from Lubbock, Texas, says). And if you're thinking of introducing someone to our fit fam, be sure to check with our front desk staff about current incentives for referring a friend.